AUTOMOTIVE

Miller Cole has navigated the political waters in Washington, California and the Northeast states for numerous automakers, suppliers and national trade associations. We have been involved in key issues affecting the global auto industry  including fuel economy, emissions, vehicle safety, competitiveness and trade issues.

Government Relations

Automotive is a major focus of our government relations practice located in Washington, D.C.  Highlights of client support include:

Representing numerous clients before the House Transportation and Infrastructure, Senate Banking Housing and Urban Affairs, Senate Environment and Public Works, and Senate Commerce Committees as well as before the Administrations of the U.S. Department of Transportation.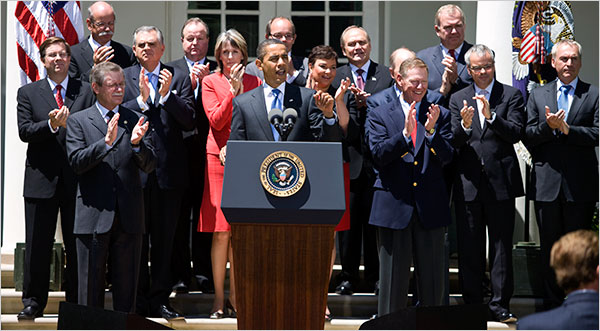 Government Legislative and Regulatory Analysis

Coordinated teams of legal, regulatory, government and engineering experts to analyze regulatory proposals intended to restrict and or limit product lines on a state, regional, and national level. Involved California Air Resources Board LEV II and ZEV II proposals, driver distraction, CAFÉ, greenhouse gas emissions, end of life vehicle disposition and vehicle safety.

Compliance

Evaluated automotive product lines to determine compliance with existing state and federal regulations, tracked, analyzed and developed proposed solutions to future legislative and regulatory proposals

Lobbying

Researched, tracked and lobbied legislative and regulatory issues, in particular California's LEV II and EPA's Tier 2 mobile emissions rule making as well as stationary emissions rule makings.   Interacted with regulators, extensively lobbied legislators and debated the proposed rules. Developed a corporate strategic regulatory action plan for clients with Board of Director and executive committee presentations, to meet legislative requirements, interact with key decision makers and influence ongoing legislative and regulatory programs.

Following is a brief outline of engagements:

Miller Cole represents automotive clients before the Senate Commerce Science and Transportation Committee on issues ranging from fuel economy to safety recall hearings tire safety, and Transportation bill negotiations.

Miller Cole has assisted numerous clients in evaluation of the global regulatory climate from Brussels to Beijing and paved the way for introduction of new safety (occupant protection and injury mitigation) and environmental technology in motor vehicles.

Miller Cole has developed programs to improve child safety in vehicles and sponsored Child Safety Seat Initiatives with major automakers, trade associations, safety advocates and level-one trauma centers throughout the U.S..

Miller Cole developed a corporate recruitment and retention program for several federal initiatives to support the Department of Transportation's Crash Injury Research and Engineering Network (CIREN) program to establish and maintain eight level-one trauma centers throughout the U.S.  Miller Cole recruited sponsors, developed program materials and increased funding for the program; which expanded the research initiatives,  and increased industry participation and program sustainability.

Miller Cole developed the first, five-year strategic plan for the United States Council for Automotive Research (USCAR) and its Vehicle Recycling Partnership (VRP).